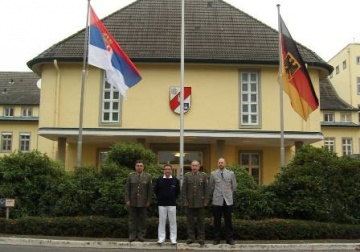 The Visit to the Military Hospital in Hamburg
17. 11. 2010
Belgrade, November 17, 2010. – The head of the MMA's Psychiatry Clinic, Col. Assist. Prof. Dr. Radomir Samardžić and the commander of the Military Medical Center- Karaburma, Major Dr. Milan Mladenović were recently in the working visit to the Military Hospital in Hamburg, Germany

The members of the Hospital Management and its leading experts introduced our doctors into the organization of work and capabilities and capacities of the hospital, the operation of the Emergency Department and its transport unit,   medical supply chain and the capacities of the hospital dispensary which is even capable of production of some cytostatics, dermatological preparations and infusion fluids as well.
 
The representatives of the Hamburg Military Hospital presented the guest from Serbia
their experiences gained through participation in the UN-led peacekeeping missions, medical management of the wounded and sick members of the German Armed Forces Medical Services deployed to missions conducted outside the national borders.
 
Our experts shared with the colleagues from Germany their experiences gained in the treatment of mental disorders caused by war trauma and stress, whilst Col. Assist. Prof. Dr. Radomir Samardžić delivered an outstanding lecture on our experiences in dealing with war psychotrauma, and presented as well the capabilities and accomplishments of the Military Medical Academy and its Psychiatry Clinic to the top Management and leading experts of the Military Hospital in Hamburg.

In the course of the visit to Hamburg, the members of our delegation toured the Institute of Tropic Diseases, ranked among the top in Europe, where they had the opportunity to talk about the possibilities of developing bilateral cooperative activities in the areas of diagnosis and therapeutic treatment of infectious and tropic diseases.