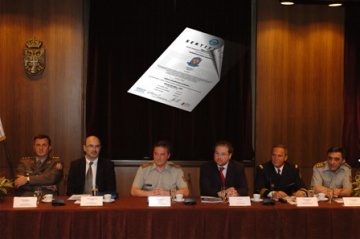 The award of accreditations and ISO certifications to the MMA
18. 05. 2009
 Belgrade, May 18, 2009. – At the Press Conference held at the Military Medical Academy on the occasion of the award of certificates, it was said that the complete process of work and management at the Military Medical Academy was carried out in accordance with the highest standards of the Quality Management System  ISO 9001, Environmental Management System ISO 14001,  Occupational Health and Safety Management System ISО 18001, Food Safety Management System ISО 22000 and Laboratory Management System ISO 17025. Thus, it became the first healthcare institution in Serbia to operate in the above-mentioned segments in line with those standards.

On that occasion, the director of the Regional Office of the German-Greek Certification Company- DQS, Mr. Zoran Andjelkovic and the director of the Serbian Accreditation Board, Assist. Prof. Dr. Dejan Krnjajic presented the MMA's head with certificates and accreditations for laboratories of Institutes of Transfusiology, Medical Biochemistry, Pharmacy, Hygiene and the Poison Control Centre.
 
 Addressing the media representatives present to that occasion, the MMA' head, Major General Prof. Dr. Miodrag Jevtic said: '' We have gathered here today to present to our public new goals on the path  to  achievements and advancement of our Military Medical Academy.

So far, we have convinced you  so many times that our work is performed by the highest standards of medical profession and science, the proof of which are prestigue recognitions, outstanding successful participation in world medical events, intensive international activity and cooperation with the most eminent healthcare institutions in the world, as well as accomplishments in the treatment area and our patients who have chosen us to care for their health  .
 
Those people who, over the last months, had the opportunity to audit thoroughly the work performed at the Military Medical Academy in all its segments can confirm and prove that we are on the right path. During each stage in the audit process, they could assess  laboratory diagnostic work in terms of competency, comparability and validity of our results when compared with the world ones as well as quality health, environmental, occupational and food safety management systems, The last one is a very important when care for a patient treated in this institution is considered.
 
We have had nothing to hide, we couldn't even do that, we have shown everything we do and how we do that and managed to convince them that we followed the highest quality standards such as  ISO17025- relating to laboratory diagnosis in the field of transfusiology, medical biochemistry, drug investigation and control, food quality and toxicological analyses;  then standards  of Quality Management System - ISO 9001; Environmental Management System - ISO 14001;  Occupational Health and Safety Management System - ISО 18001 and Food Safety System -ISO 22000.

Our intention is to share these moments with our citizens – the users of our services. We want this information to be sent abroad through the media, and to have the Military Medical Academy operated, since today, by all five-quality standards. According to information available to me, the Military Medical Academy would be the first such institution in Serbia.
As you know, we at the Academy are focused on constant introduction of new diagnostic and therapeutic methods, speeding up technological renovation, improving teaching and scientific-research process, publishing activity and international cooperation. However,  I must reiterate, here today, that we have a full support of the Ministry of Defence of the Republic of Serbia in  carrying out all those activities.
   
During the last year, there were high-level military medical delegations from 57 countries paying visits to the Academy. Two days ago, I came back from the 14th   Balkan Military Medical Committee (BMMC) Congress at which participation of our delegation composed of eminent experts in different medical fields was unique, remarkable and successful. However, we are BMMC active member since last year.

During this year, we were in the visits to Medical Services of Turkey, Tunis, Germany, Austria, and PR China. Our experts are sent abroad to acquire new knowledge, but at the same time, physicians from different countries come to the Military Medical Academy to learn from us.
 
I also have to mention one very important aspect –so called civil-military cooperation with clinical and hospital centers, universities and schools of advanced education in Serbia as well as spa and rehabilitation centers  is becoming more and more intensified and successful. Through our daily practice, we make our presence felt not only here in Crnotravska St 17, in Belgrade, but in each part of our country.  We unselfishly share everything we know with others, since scientific and professional information if not shared is not valuable, and I am sure that you know that. In support of that, I would tell you that, only two days ago, our experts together with their colleagues from the Nis Clinical Center successfully performed the 20th kidney transplantation in Nis. Our intention was to teach and train our colleagues from the South of Serbia to perform such surgical procedure and we succeeded in that. Transplantation surgery regardless of its complexity has not been and must not be the privilege of the most developed capital centers, but the imperative of health and life without any territorial limits and should be available to all people under the same condition and priorities.

Ladies and gentlemen, those certificates that are officially awarded to us today, as I said, represent one proof more that we are doing well, but at the same time, they would give a great impetus to our further work and international cooperation and contribute as well greatly to the reputation and credibility of the Military Medical Academy.

As the first man of this institution and the leader of the team  operating under the unique motto  'we can always do more and better', I promise we would not slacken, and you as well as all our citizens, colleagues and partners and these tough, impartial and responsible members of the Certification and Accreditation Commission are here to further assess and value the MMA's work by the professional and quality criteria'', added in the end General Jevtic.

''Work in the field of quality management  at the Military Medical Academy has not been completed by the introduction of standards, implementation of procedures and the award of certificates. All MMA's members are well aware of their own responsibilities and the importance of the work in this field and are ready to undertake it'' pointed out General Jevtic.

Today's official award of certificates and accreditations was attended by all the members of the MMA's Management Board and the heads of accredited laboratories and other MMA's organizational units.