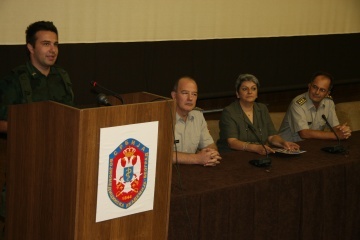 The best in the 93rd Class of the Reserve Officers School
29. 08. 2008
 Belgrade, August 29 - A day before the students of the 93rd Class officially completed the Reserve Officers School of the Serbian Armed Forces Medical Services, an official ceremony was held in the Amphitheater of the Military Medical Academy to promote the best students in the Class.

The head of the Health Department, Material Resources Sector, RS Ministry of Defence, Brigadier General Assist. Prof. Veljko Todorović., MD, PhD attended the ceremony as well. Addressing the audience, General Todorović said that a considerable progression was made within the education system designed for Medical Services reserve officers what is considered to be a significant investment for the operation of the future Regional Medical Training Center.

The first ranking student is Aleksandar Jevtić, MD, with the grade point average (GPA) of 9,37, the second is Vladan Dimitrijević, MD, (9,32) and, the third are Marko Smiljanić, MD and Vladimir Biočanin, MD with the GPA of 9,26. Occasional prizes were awarded to them for the success they achieved.

Assessing results achieved throughout schooling, the head of the MMA Sector for Education and Scientific-Research Work Prof. Mirjana Životić-Vanović, MD, PhD particularly stressed that all the students of that Class were highly motivated to study; they demonstrated an excellent knowledge and were very active in dong their seminar papers successfully defended at the public Class in the presence of the MMA Teaching-Scientific Council members. They also demonstrated a high level of professionalism at the final exercise Graduate 2008 and throughout the second part of the educational program completed within the Armed Forces units and installations. Therefore, the 93rd Class would be recorded as the most successful, added Prof. Vanović.

On behalf of the students of the 93rd Class, Aleksandar Jevtić, MD, the best among them addressed the present saying that knowledge and experience passed onto them by the best physicians from the Military Medical Academy are stimuli to make greater efforts towards their further improvements and advancements as to make themselves as valuable as their precursors.

However, there is a growing number of physicians opting for serving their military term in the Medical Services Reserve Officers School. Many of them want to fulfill their professional goals with the Armed Forces, because they think they can be given a chance and the opportunity to professionally prove themselves and continue their education and advance as well.