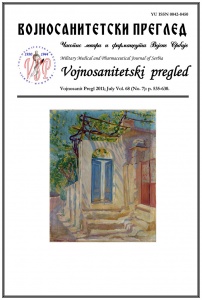 The first impact factor for Military Medical Review magazine VSP
30. 06. 2011
Military Medical Review ("Vojnosanitetski Pregled", VSP for short), a magazine for doctors, pharmacists and dentists who work in the Serbian Army, has been given its first ever impact factor of 0.199. This news was posted on the website of the Serbian Library Consortium for Coordinated Acquisition (KOBSON) on 30th June, two days after the Philadelphia-based Thomson Reuters Institute (the former Institute for Scientific Informations – ISI) officially revealed impact factors for the most influential scientific magazines. Impact factor evaluates the worth of a certain magazine. The Institute publicly reveals the impact factors in the middle of each year for the previous year and these are widely accepted by the scientific community as the norm for assessing the importance of a scientific magazine, its contributors and their scientific work.
To remind, in 2008, as the first medical magazine in Serbia, VSP was included in the Science Citation Index Expanded (SCIe) - the Thomson Reuters Institute's world-renowned citation database which was the main prerequisite for the magazine getting its impact factor. The impact factor is calculated based on the number of citation reports published in a certain magazine each year and the total number of scientific papers published in the magazine over a two-year-period which precedes the year when the impact factor is assessed. When the impact factor is calculated for the first time ever, the Institute considers the citation of only those papers that have been published during the first two years since the magazine was included in the ISI database. In the case of VSP, those years were 2008 and 2009, so the magazine's first impact factor pertains to 2010.
Assigning the impact factor is an important event for both the publishers and editors of scientific magazines since, thanks to this factor, a magazine becomes a full-fledged member of the group of internationally relevant magazines and is positioned against other magazines that cover the same scientific field.
The management of the Military Medical Academy, which has been the home to VSP's editorial offices since 1961, would like to congratulate the magazine's editors and its editorial board members, as well as its consulting editors, contributors and readers on this tremendous success and wishes that every next impact factor will be higher than the previous one.