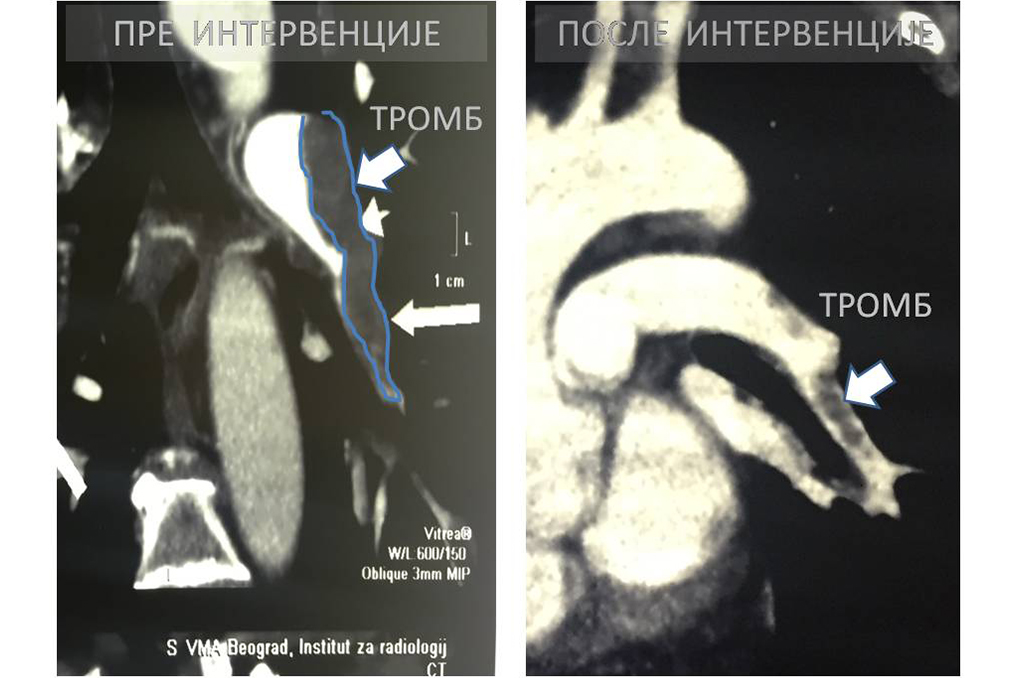 The first pulmonary thrombectomy with AngioJet device performed at MMA
16. 08. 2017
The first mechanical breakdown of pulmonary clots by AngioJet system was performed at the Military Medical Academy in a patient S.J. 43 years old who has been successfully recovering. The intervention involved a team of doctors under the direction of the Head of the Clinic for Emergency Internal Medicine Colonel Prof. Dr. Slobodan Obradovic, Head of the Department of Vascular Interventional Radiology of the Institute of Radiology MMA Lt Col. Dr. Sinisa Rusovic and a Chief of the Clinic for Urgent Pulmonology, the Institute of Pulmonary Diseases Assist. Prof. Dr. Jovan Matijasevic.
AngioJet system which was for the first time used in Serbia to breakdown pulmonary clots enabled fluid jet to be injected through the catheter under high velocity directly into the clot. In this way, the thrombus broke down, what CT finding confirmed after the intervention.
Having mastered this method, thanks to teamwork and good cooperation with the Institute of Pulmonary Diseases, doctors from the Clinic for Emergency Internal Medicine, Institute of Radiology and Cardiology Clinic of MMA encompassed the range of pulmonary thromboembolism contemporary treatments and complexity of this disease.