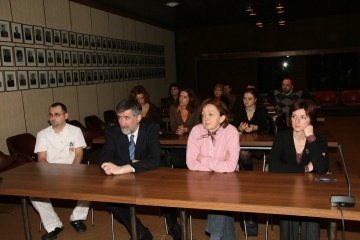 The latest methods of percutaneous tracheostomy
10. 02. 2009
 Prof. Dr Antonio Fantoni, an anesthesiologist from Milano, Italy, the creator of the technique for percutaneous tracheostomy, and his colleagues were in a visit to the Military Medical Academy.

Prof. Dr Antonio Fantoni gave a Seminar on percutaneous tracheostomy –the latest method, which he himself invented, of percutaneous tracheostomy in contemporary intensive medicine.

Renowned physicians from Serbia (Belgrade, Novi Sad, Kragujevac, Kraljevo, Užice, Subotica, Zrenjanin, Pančevo) as well as their international colleagues (Romania, Bulgaria, B&H, Macedonia, Montenegro) attended the Seminar.

After the introductory presentations, the seminar participants were given the possibility to try out that latest technique for percutaneous tracheostomy on models as to gain skills necessary for its performance.
The Seminar was organized within the framework of the Center for Continuous Medical Education of the Military Medical Academy and, on behalf of the Academy, it was led by Col. Prof. Predrag Romić, PhD. The seminar participants were awarded certificates of the MMA Center for Continuous Medical Education and the certificates that recognize mastered skills.