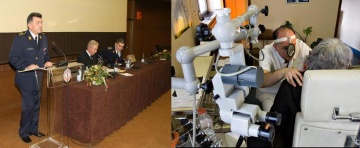 The meeting of the Serbian Otorinolaryngologists
29. 03. 2011
Belgrade, March 29, 2010. – The MMA's Clinic for Otorinolaryngology was the organizer of the meeting dedicated to ''Antibiotic prophylaxis and therapy in the larynx and hypopharynx syrgery'' which was held at the Military Medical Academy in the presence of several tents of otorinolaryngologists, microbiologists, infectologists, epidemiologists and other medical specialists from our country who are dealing with these issues.
 
The meeting was officially opened by the MMA's head Col. Prof. Dr. Marijan Novaković.  He emphasized   that Otorinolaryngology is a very crucial surgical discipline and added that the Otorinolaryngology Section of the Serbian Medical Society is one of its best-organized sections. He also expressed his contentment with great professional contribution of the MMA's experts to the work and development of this branch of medicine in our country, and reiterated as well that the MMA's Management was strongly determined to keep things going the way they had been going, and that it could be achieved only through continuous enhancement and improvement of theoretical and practical knowledge, and sharing of experience with the colleagues   from our and other countries.

During the further course of the meeting, the MMA's experts, the AF employee Prof. Dr. Vesna Šuljagić , Col. Prof. Dr. Darko Nožić and Major, Asst. Prof. Dr. Nenad Baletić  delivered lectures on the prevention and control of surgical site infections in the ENT region, infections associated with the larynx and hypopharynx syrgery as well as our experiences in the prevention and the treatment of those infections.