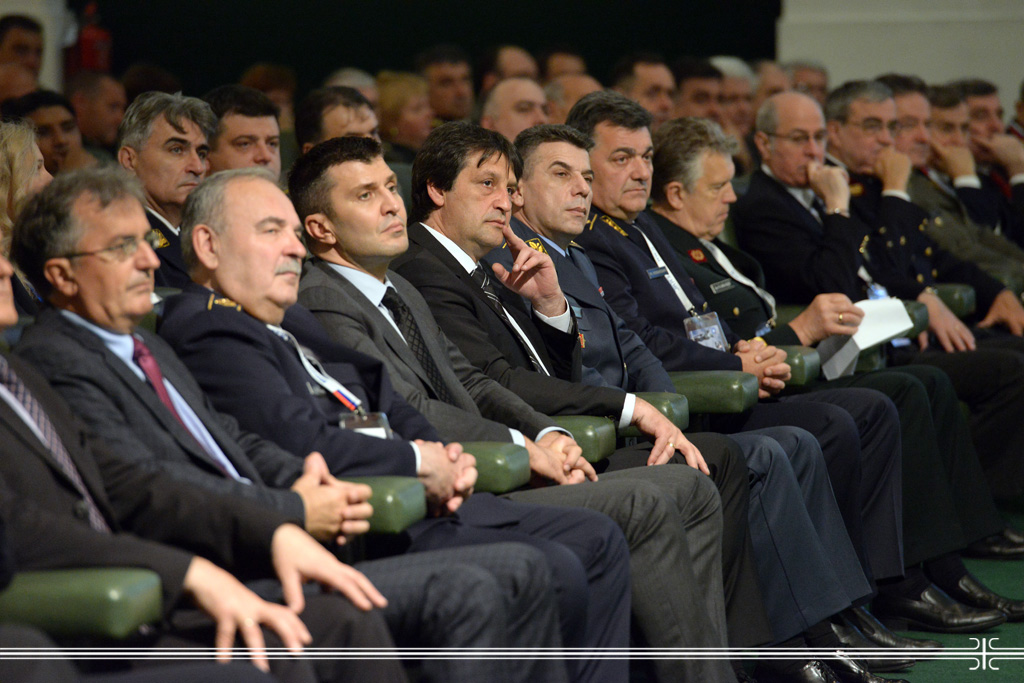 Third Pan European Congress of Military Medicine Officially Opened
03. 06. 2014
Topcider House of Guard was the venue today of the Opening Ceremony of Third Pan European Congress of Military Medicine, hosted this year by the Ministry of Defence of the Republic of Serbia.
Opening Ceremony of one of the most significant world meetings of military medicine, taking place in Belgrade between June 2nd and 6th, 2014, was attended by the Defence Minister Bratislav Gašić, Chairman of Pan European Working Group of the International Committee of Military Medicine Brigadier General Johan de Graaf, Brigadier General Prof. Dr. Marijan Novaković, the Head of the Military Medical Academy and Deputy Chairman of Pan European Working Group, as well as by the Head of Military Healthcare Department Brigadier General Prof. Dr. Zoran Popović who is also the Director of 3rd Pan European Congress of Military Medicine, accompanied by the other representatives of the Defence Ministry and Serbian Armed Forces.
- Serbian experts in military medicine had a sad opportunity not so longtime ago to practice in real lifetime situations the fields which will be presented at the Congress- stressed out Minister Gašić, adding the fact that Military Medical Academy today represents a leader and well known military medical brand, not only on regional level, but much wider, boasting its quality with different professionals who are our ambassadors of health world-wide.
According to his words, multinational operations cannot be imagined without the presence of the military healthcare members thus showing extremely benefit for both our experts and their patients.
- We intend to continue the established positive trend, while the results achieved in treatment of patients following the highest world medical standards, excellent results in the field of scientific research and investment in the future of military medicine through the staff training will be our impulse and motivation, Minister Gašić said.
Brigadier General Johan de Graaf from Netherlands stated his pleasure to be a part of the event which will be, as he said, fruitful for all the participants.
Wishing all the present delegates a worm welcome on behalf of the Military Medical Academy, Brigadier General Novaković said that one of the reasons why this year Congress had a quality, beside the eminent participants and lecturers, should be also a good choice of topics, having an important value for military medicine, which needs always to be ready to assist both country and its citizens, in no matter what conditions. During the floods, influencing recently Serbia and whole region, armed forces medical teams and MMA worked intensively to help citizens at the site, as well as through the work of providing psychological support and sanitations in endangered terrains.
- Our armed forces have always been prepared to answer the first and protect their citizens while its medical personnel is at permanent disposal to both their members and civilians, General Popović affirmed and added that all that could be seen in the recent floods, when Military Medical Academy and all disposable medical teams reacted at very moment engaging all possible resources.
Secretary General of the International Committee of Military Medicine Major General Dr. Roger Van Hoof expressed his condolences due to recent floods which befell our country, congratulating at the same time the Congress organizers who "despite this terrible catastrophe, that anyone could not predict, managed to organize such a important meeting". He explained that ICMM member states are divided into six groups and that our country is one of the states making the part of Pan European Working Group. Biennially, one of the member countries organizes the Congress.