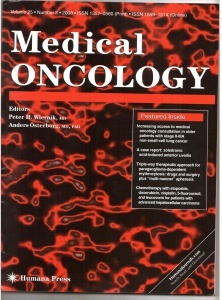 To restore to life by multimodal and multimaneuver apheresis
31. 07. 2008
 Belgrade, July 31 - The original scientific paper of Prof. Bela Balint and hic co-authors on the application of a new, combined and the most complex procedure – aphoresis has been published in the last issue of the leading American Medical Journal 'Medical Oncology'. The title of the paper 'Triple–way therapeutic approach for paraganglioma–dependent erythrocytosis: drugs plus surgery plus "multi–manner" apheresis' has been put on the title page of the magazine for they are the fist data in the world on introduction and therapeutic application of this procedure, which is defined as multimodal and multimaneuver therapeutic apheresis by our experts.
The use of so-called multimodal and multimaneuver therapeutic apheresis have already resulted in successful treatment of about ten patients with some forms of malignant and autoimmune life-threatening disease conditions who were hospitalized at the Military Medical Academy in Belgrade.
The main goal of this complex method - apheresis is concurrent i.e. simultaneous removal and replacement of functions or several blood components, that is various blood cells and plasma. Replacement of mentioned blood components by apheresis gives the possibility to recover a patient from some critical and life-threatening to normal condition or condition ensuring a patient's further recovery relating to blood (more precisely blood cells and specific regulatory plasma systems) and general clinical condition.