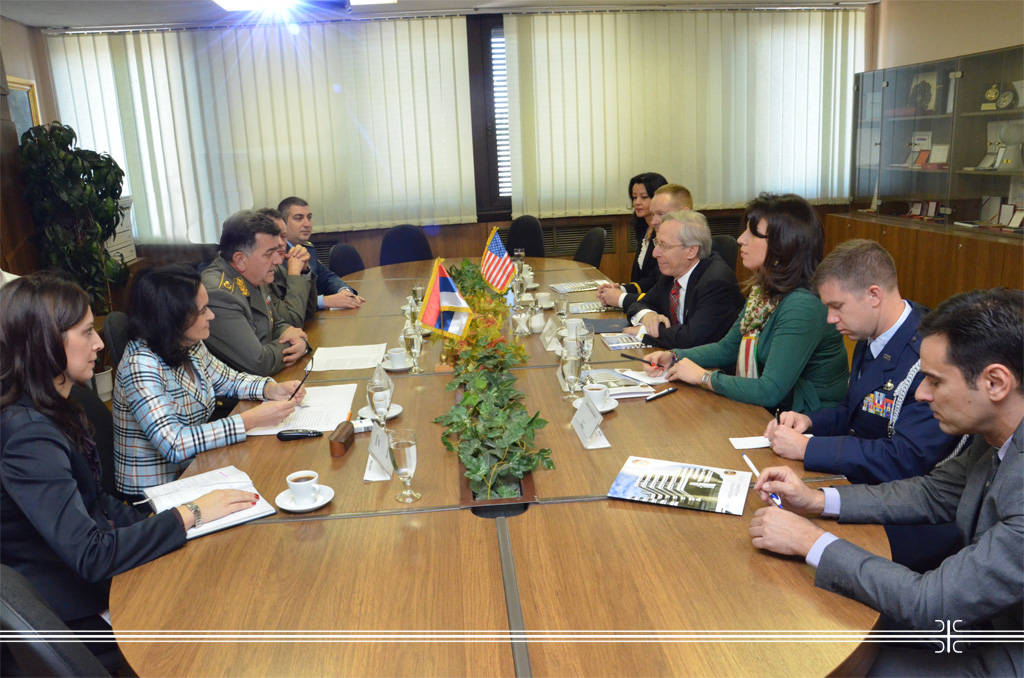 U.S. Ambassador Visited MMA
27. 11. 2012
On the occasion of equipment donation for HIV/AIDS prevention and control in the Serbian Armed Forces, the U.S. Ambassador in Belgrade Michael Kirby visited today Military Medical Academy and met with the MMA's head Brigadier General Prof. Dr. Marijan Novakovic.
The $100 000 worth aid is part of the U.S. Ministry of Defence program, i.e. DHAPP-
Department of Defense HIV/AIDS Prevention Program where Ministry of Defence of the Republic of Serbia and Military Medical Academy participate since 2006. The donation protocol has been signed on November 7, 2012 at the Military Medical Academy which coincides with the equipment handing over designed to development of laboratory AIDS testing and diseases diagnostics equipment (fast tests, ELISA tests, PCR tests, CD4 and CD8 tests). The support also refers to informative activities of raising consciousness among military population on HIV/AIDS prevention while future activities are aimed to include the professional training of MMA's physicians in the prevention and control of this disease.
Expressing his contentment with the visit of ambassador Kirby, the MMA's head
Brigadier General Prof. Dr. Marijan Novakovic reminded the attendees on successful military medical collaboration between MMA and USA pointing out the cooperative relations with National Ohio Guard.
- Delegation of the Ministry of Defence spent some time there during the last year and established valuable steps in the cooperation concerning the staff exchange and maybe attendance of our students during the summer clinical practice- said chief of the Military Medical Academy and showed his gratitude to United States of America for recognizing the need for donation in the field of preventive medicine, with the special emphasis on AIDS disease because nobody, not even military population, is immune to the this severe disease and infection.
Ambassador Kirby pointed out that today he had opportunity to ensure in the MMA's reputation and that he was pleased with the fact that his country was able to provide the assistance to qualified medical personnel in the case HIV/AIDS prevention.
 -Using this modest way we want to help Serbia and its military population to keep a low level of this disease, but I also hope so that we will have the opportunity for further cooperation with the Military Medical Academy and the other healthcare institutions in Serbia in order to improve the level of medical services and medical care of all citizens- ambassador Kirby said.
The program of the US Ministry of Defence for AIDS prevention is realized through the collaboration with numerous military medical services aimed at raising the consciousness on this disease and straitening the prevention capacities.