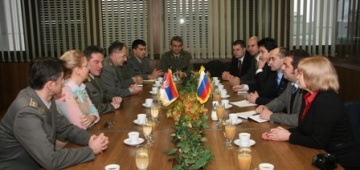 Universiade 2009 – Continuation of Activities
14. 01. 2010
Belgrade, January 14, 2010 – Members of the Organizing Committee of the 27th World Summer Universiade to be held in 2013, in Kazan, the Russian Province of Tatarstan, paid a visit to the Military Medical Academy to exchange experiences in providing medical support to this sport manifestation.
Guests from Russia were received by the MMA's head, Major General Prof. Dr. Miodrag Jevtić and his associates, who were directly responsible and involved in managing medical support to the Universiade 2009, the largest sports event held in our country last year.
General Jevtić briefed the guests from Russia about capabilities and the most important activities of the Military Medical Academy as a medical giant of strategic national importance. Colonel, Assist. Prof. Dr. Zoran Hajduković, Lieutenant Colonels Assist. Prof. Dr. Srđan Lazić, Dr. Srđan Starčević and Captain Dr. Nikola Čikiriz presented our experiences in organizing medical support, health and preventive-medical support to this sporting event, engaged resources, and a number of performed examinations and analyses.
''Taking into account all impressive results and the MMA's capabilities as well, no wonder that the news about winning the gold by the Military Medical Academy made a sensation all across the world. Sportsmen, the participants in this manifestation have become real ambassadors of both the MMA and Serbian Medicine'', said Mr. Farid Abdulganijev director of the Universiade 2013. ''Your support and experience would be very precious to us throughout the period ahead of us, and, therefore, we expect to intensify our cooperation, which should extend beyond sports medicine domain. There are so many areas within the fields of medical profession and science that offer great possibilities for establishing cooperation between our two countries, and the Military Medical Academy with its professional and educational capacities and capabilities should act as the cooperation bridge'', said Mr. Abdulganijev.
Having expressed his thanks to the guests for their kind words, the MMA's head said that our institution was willing and ready to help the colleagues from Tatarstan with our experiences in carrying out such a complex activity. He also expressed his wish to see cooperation extended to include all other fields of medicine. ''We are willing to share our knowledge with others; however, we want to learn from others as well, but on equal basis'', said General Jevtić.