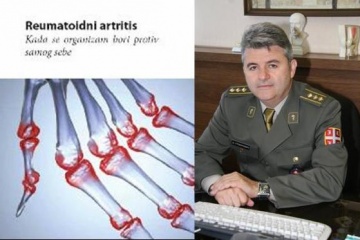 World Arthritis Day
12. 10. 2010
Belgrade, October 12, 2010. – The experts from the MMA's Clinic for Rheumatology and Clinical Immunology gave their professional contribution by   observing 12th October –World Arthritis Day, on the occasion of which they reminded the general public that there is  a large number of people affected by rheumatic diseases.

''We are well aware of the fact that the number of   arthritis patients (the common word referring to over 200 rheumatic diseases) is not small, since every third patient visiting our healthcare facilities has complaints of rheumatoid pain. Both   people suffering from arthritis and their health care givers in Serbia  join together to mark this  Day under the slogan ''Let's work together'', said Col. Prof. Dr. Dušan Stefanovic, the head of the MMA's Clinic for Rheumatology and Clinical Immunology for the MMA web site. He reiterated that our experts would continue to give their full contribution to, in the first place, permanent advancement of diagnostic and therapeutic methods in rheumatic diseases in line with the world standards.

For the last 15 years, people with arthritis join together on October 12, the Day devoted to them, to make their voices heard on that day with the intention of attracting the   general public attention and raising their awareness of so many people among us living in constant pain caused by chronic rheumatic diseases.