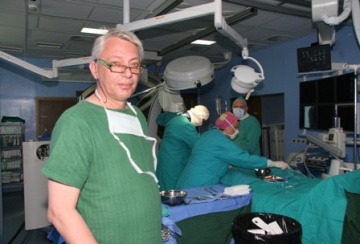 World's Top Ranking Serbian Cardiology
01. 06. 2010
Belgrade, June 01, 2010. – The MMA's delegation of interventional cardiologists and radiologists took an active part in the European Congress of interventional cardiologists held in Paris. There were 15000 experts from the whole world participating in the Congress devoted to new treatment methods and techniques of interventional cardiology.
During the Congress, the MMA's experts completed numerous courses  on new non-surgical   methods for treating various heart diseases, which since recently were  exclusively managed  with cardiac surgical procedures, which were more risky for the patient and required a several-day hospital stay.
It is expected that those methods would soon be introduced into a routine medical pracice at the Military Medical Academy. Our experts presented in Paris the MMA's experiences in the field of interventional cardiology.
''We have showen that in many fields we ranked at the top of the world's cardiology. However, we are fully qualified and equipped for application of new  interventional cardiology techniques'', said LtCol. Siniša Rusović, MD, for the MMA's web site.
'' We are willing to cooperate, share experiences and undergo continuing professional developent and further training. We  deem all the contacts we have established with interventional cardiologists and radiologists from many world's centers very precious'', said LtCol. Rusović.