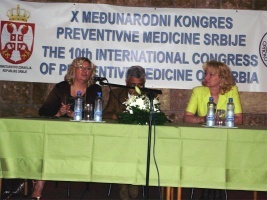 X International Preventive Medicine Congress
20. 06. 2008
Vrnjacka banja, Jun, 10 - The Congress organized by the Preventive Medicine Section of the Serbian Medical Society and under the auspice of the Ministry of Health, Republic of Serbia, is being held from 18th to 21st of June, 2008 in Vrnjacka Banja (spa).
The goal of this scientific and medical meeting is to consider from the highest level of Preventive Medicine in Serbia, region and Europe as well as from the perspective of viable development new determinants of the Health Care. In the era of transformations and integrations, Preventive Medicine with its long tradition in promoting and preserving health, represents one of the bridges connecting preventive systems in Europe.

Experts from the Military Medical Academy who are members of the scientific and organizational boards are also involved in organizing this Congress and thus contribute to strengthening relations between civil-military health systems. On behalf of the MMA head, Maj-Gen. Prof. Miodrag Jevtic M.D., PhD, the meeting was opened by the head of the Preventive Medicine Sector, Col. Mladen Milivojevic, M.D.

The Congress adressed the following issues:
health of population, health policy and management
Environmental factors and health
Infectious diseases in the early 21st century
Prevention of noninfectious diseases
and through round table sessions
Long-term treatment of obesity
Ultraviolet radiation and health: effects and protection
Environmental toxicological and radiological pollution
Preventive dentistry in the 21st century
Plenary lecturers have been delivered by U.Laser and H. Vencel from Germany and M. Kondric from Slovenia. MMA medical experts participated in a capacity of lecturers and presided over sessions as well.
Presentation of Col. Mladen Milivojevic, M.D. dealt with the actual issue of contamination of drinking water with arsenic, Col. Assist. Prof. R.Cekanac MD,PhD, has described epidemiologic  characteristics of new infectious diseases having occurred in the world, giving his assessment of the real threat constituted by their occurrence and the spread in our area, Assist. Prof. S. Radjen  MD,PhD has presented new aspects of vitamin D effects in diet while Assist. Prof. S. Radakovic MD,PhD has  introduced the participants into the interactions between food and drugs at the level of enzyme system of  cytochrome.
Assist. Prof. B. Djurovic, MD,PhD, has presided over the roundtable session on environmental toxicological and radiological pollution. Apart from the abovementioned, another 10 papers, the authors of which are MMA medical staff members, would be presented at this meeting.
The total of 251 papers would be presented at the Congress attended by over 200 national and international medical experts.