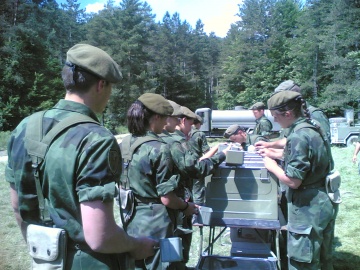 "Diplomac 2011"
07. 07. 2011
The male and female cadets, graduates of the Military Academy, have successfully carried out an excercise called 'Graduate 2011' ('Diplomac 2011') at the Pasuljanske Livade range near Ćuprija.
In the presence of Defense Minister Dragan Šutanovac, Serbian Army Chief of Staff General Miloje Miletić, Head of the Military Academy Brigadier General Mladen Vuruna, Head of the Military Health Care Division in the Ministry of Defense Brigadier General Veljko Todorović, Head of the Military Medical Academy Colonel prof. dr Marijan Novaković, board members, foreign military envoys accredited in Serbia and delegations of military academies from the Czech Republic, Greece, Turkey, Belgium, The Netherlands and Egypt, the male and female cadets of the Military Academy, which is, according to the Defense Minister, one of the most eminent military educational facilities in the region, carried out a military exercise in difficult weather conditions while demonstrating a high level of competence in carrying out commanding duties that they will appointed to in the following few months. The Minister outlined that, out of all exercises carried out by Military Academy graduates, this one was the most complex one which was executed in realistic weather conditions and with the highest number of staff and equipment involved, i.e. an exercise that some of the prestigious academies in the world haven't carried out so far. This exercise was executed by the first generation of the Military Academy graduates, including the female cadets, that will be assigned to official duties in Serbian Army in September this year. It is worth mentioning that 11 cadets (8 male and 3 female), who are graduates of the Military Medical Academy's college, also partook in the exercise as paramedics who provided health care to the infantry in the first line of fire. The remaining 17, out of a total of 28 cadets, were observers.

The topic of this year's exercise was "Tactical Defense Group on Counter-Attack" and its primary task was to demonstrate the level of competence of both female and male cadets who majored at different subjects at the Military Academy so that they can participate in military missions of the Serbian Army and become adequately trained for carrying out their first officer duties.