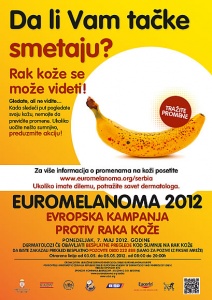 Euromelanoma
26. 04. 2012
Euromelanoma represents pan European campaign dealing with prevention of the skin cancer and aimed at providing information to all in issues including: prevention, timely diagnostics and treatment of the skin cancer. This campaign was entamed in Belgium in 1999 to expend now in all 29 countries.
Since 2008, Republic of Serbia was included in pan European, humanitarian and screening campaign against skin cancer.
It is organized by Serbian Association of Dermatovenereologists in cooperation with Europe Euromelanoma, European Academy for Dermatoveneorology (EADV) and under the auspice of the Ministry of Health of the Republic of Serbia. Campaign partner is Eucerin, medical cosmetics brand within the framework of company Beiersdorf d.o.o.
This year, manifestation Euromelanoma will take place on Monday 7
th
May with a motto: "Do the spots bother you? Skin cancer can be seen."
All the citizens concerned are required to book their free check-ups of birthmarks and other forms of skin changes in advance by dialing  
0800 222 888 only for fixed phones numbers
. That line will be open between May 3rd and May 5th, 2012.
Military
Medical Academy
and the Clinic for Dermatovenereology will take a part in Melanoma campaign this year, as well.