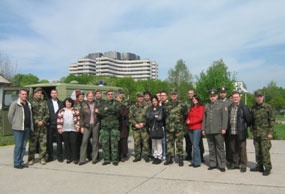 Information about the course "Management of Medical Services in the Case of Mass Accidents"
25. 04. 2012
Military Medical Training Center of the MMA Sector for Education and Scientific Research organized continous medical education (CME) course titled  "Management of Medical Services in the Case of Mass Accidents".
The attendees had the opportunity to listen to the latest lectures in the field of the Mass Accidents Management delivered by the teachers of the Military Medical Training Center. 
Numerous topics were covered, including: Effective Planning in the Case of Catastrophes, Regional Emergences Health System Integration and Epidemiology of the Catastrophes,  Psychological Reacting Aspects in Catastrophes, Management of the Mass Accidents, Role and Assignments of Red Cross Organization in the Case of Mass Accidents, Chemical, Biological, Radiological and Nuclear Explosives of Large Capacity (CBRNE).
The atendees raised their awareness of the latest achievements and protocols in the mass accident management, and acquire practical skills in providing the evacuation of injured and diseased using land and air way of transport.
The course gathered 45 physicians of different specialties, members of the Ministry of Defence working with politrauma patients and having the necessity for continuous medical education and professional development from this scientific area.