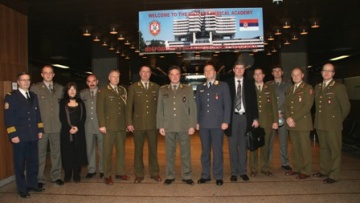 Military Medical Cooperation between Serbia and Norway
13. 12. 2009
Belgrade, December 13, 2008 – High-ranking delegation of the Norwegian Armed Forces Medical Services led by Surgeon General, Major General Dr. John Maxfield Steineger paid a 3-day visit to the Military Medical Academy on November 3-5, 2008.
During the visit, meetings of the Joint Working Group and Joint Steering Committee of the Ministries of Defense of the Kingdom of Norway and the Republic of Serbia were held to thoroughly review joint cooperation activities of the two Military Medical Services carried out in the previous period and agree upon concrete forms of future cooperation within the framework of peacekeeping missions, exchange of experts and experiences in the field of Aviation Medicine, trauma, mental health, rehabilitation of veterans of peacekeeping missions, epidemiology and medical administration.
Participation in combined exercise activities of those two Medical Services that are scheduled to take place in both Serbia and Norway within the forthcoming period were agreed; possibilities of providing assistance and support by the Norwegian side for strengthening regional military medical cooperation among the Balkan countries and establishment of a Belgrade-based regional training center for medical doctors were also reviewed.
Co-chairmen of the Joint Steering Committee, Major Generals John Maxfield Steineger and Miodrag Jevtić expressed their satisfaction with the previous bilateral military medical cooperation activities as well as wishes for its further advancement and strengthening.
The guests from Norway highly valued our engagement and contributions of the Serbian surgical team deployed to UN peacekeeping mission in Chad, pointing out demonstrated expertise, professionalism, teamwork and exceptional cooperative attitude of the members of our team during their first rotation .
The members of the Norwegian Medical Services were invited to take part in the International Course on Internal Medicine to be held in the near future at the Military Medical Academy which would be devoted to in-depth review of aspects of medical management of the wounded and injured in mass catastrophe situations.