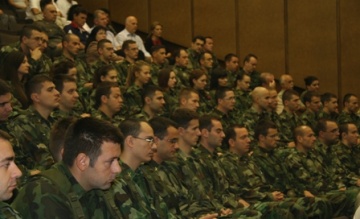 New Class of the Reserve Officers School of the Medical and Veterinary Services
07. 09. 2009
Belgrade, September 7 - ''All those who have entered holly premises of this temple of medical profession and science either as graduated students of the Reserve Officers School of the Medical and Veterinary Services or as students who are to master medical and military skills will be offered the privilege of extending their knowledge base, acquiring new professional and scientific knowledge, thus gaining higher quality. In the institution of such rank, in this City of Medicine, we will teach you military medical skills, how to respect the doctrine, be specifically committed to our Armed Forces, our people and this institution. We will pass on to you our unique experiences we have gained in many fields of medicine. Since today, the Military Medical Academy will be your home too. So, I would like to offer you a warm welcome here'', said the MMA's Head, Major General Prof. Dr. Miodrag Jevtić in his speech given on the occasion of the beginning of the school year for the 96th Class of the Reserve Officers School of the Medical Service and 94th Class of the Veterinary Service.

The official ceremony was attended by commanders of the Reserve Officers School, MMA's teachers and heads of the organizational units of this institution as well as the students of the First Class of the MMA's School for Advanced Studies, who already commenced their military medical training on September 1, 2009.

General Jevtić addressed the MMA's cadets in particular saying ''you are the future of the Serbian Military Medicine. You are the Military Guard of the Defense Ministry. Throughout the process of learning and your professional development, complete academic potential of the Military Medical Academy will be available to you. Here are your mentors and teachers who would pass their knowledge in the fields of Internal Medicine, Surgery, Neuropsychiatry, Preventive Medicine, etc. on to you. We want each of your day spent here to be filled with knew amount of knowledge; we want you to learn hard, and one day, make yourselves better professionals than us. That is what the Military Medical Academy and the Ministry of Defense expect from you. That is also your obligation towards your parents and the future'', stressed General Jevtić.

Immediately after the ceremony, the students of the Reserve Officers School began their training according to their military medical training curriculum.