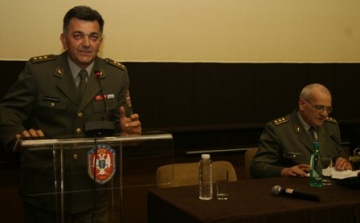 Serbian Nephrologists at the MMA
11. 03. 2011
Belgrade, March 11, 2011. – The Meeting of the Serbian Medical Society's Nephrology Section was held at the Military Medical Academy in the presence of several tents of nephrologists from health care facilities in the country.

A warm welcome to the Military Medical Academy and success in the Section's session work was offered to the Serbian nephrologists by the head of our institution Col. Prof. Dr. Marjan Novaković, who on that occasion said that only continuous learning and improvement in knowledge transfer and experience sharing are preconditions for further progress and advances in all fields of medical profession.

''Like the heart, kidneys work 24 hours a day," so keeping up with the very latest developments in medicine is very important when nephrology is concerned. As the MMA's head and a physician in the first place, I am very happy and contented to see here, in this amphitheater, our colleagues from the whole country we cooperate with for the benefit of the health of our citizens. I am particularly pleased to see   young colleagues who would have a lot to learn here and today, and they have those they can learn from, since the today's meeting has gathered our greatest figures in the field of nephrology. That is the way towards success, the true contribution to the development of Serbian medicine, and the path we would keep on going'', the MMA's head said. He also emphasized that nephrology has always been considered one of the main branches of the internal medicine in our institution, and is viewed as such even at the national level, and that it would continue to develop in the same direction.
 
The meeting analyzed previous work of the Section and its future activities as well. Colonel Prof. Dr. Zoran Kovačević, the head of the MMA's Nephrology Clinic and the president of the SMS Nephrology Section delivered a lectures on '' Arterial hypotension as the most common acute complication of hemodialysis''. Tubulointerstitial fibrosis and pre-transplantation preparation of the patient for cadaver kidney transplantation were the topics addressed by outstanding experts from the Serbian Clinical Center, Prof. Dr. Ljubica Đukanović and Assist. Prof. Dr.Radomir Naumović.