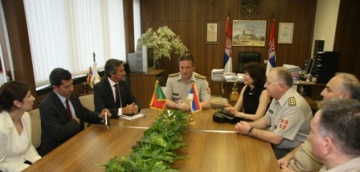 Improvement of Serbian – Portuguese Military Medical Cooperation
28. 05. 2010
Belgrade, May 28, 2010. – Portuguese MoD delegation led by Luiš Faro Ramos, a Defence Policy Director General paid a visit to the Military Medical Academy within the framework of the official visit to the Republic of Serbia Ministry of Defence.
The guests from Portugal were given a worm welcome and reception by the highest MMA's representatives headed by the MMA's head, Major General Prof. Dr. Miodrag Jevtić. On that occassion, they were introduced into the MMA's capabilities and the most significant  results achieved in the field of treatment, education and scientific-research.
The members of the Portuguese delegation expressed their satisfaction with everything they had heard and seen, and stressed the need for further improvement of military medical cooperation between those two countries. They were particularly interested in experiences of our mdical forces deployed to UN-led peacekeeping missions and reiterated the need for eventual establishing cooperation in that sphere.